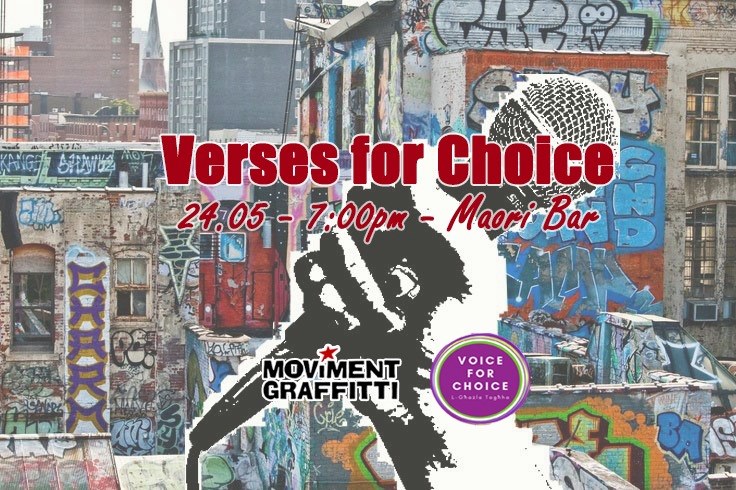 Event Details
24/05/2019
Maori
Free
Verses for Choice
As a member of the coalition Voice for Choice - L-għażla tagħha, Moviment Graffitti is organizing an Open Mic at Maori bar where verses with the theme of freedom of choice and bodily autonomy will be read. Everyone is welcome to participate by reading poems, prose, personal stories, songs or any writings and thoughts on the chosen theme of the importance of deciding on our own body. Both original and not-so-original readings are welcome.
This event aims to give a voice to individuals who would like to share their own experiences, thoughts and sensitivities about the importance of having the choice to decide whether or not to continue with a pregnancy. We believe that in Malta, reproductive health and rights need to be put on the political agenda, to be discussed critically and maturely rather than remain a taboo. Occasions to speak about them are essential to overcome the present situation.

The activity starts at 7.00 pm to give us time to gather and have a drink. The readings will start at around 8.00pm. There will also be some finger food to share.

Bħala membru tal-koalizjoni Voice for Choice - L-għażla tagħha, il-Moviment Graffitti se jorganizza Open Mic il-Maori fejn se jinqraw versi bit-tema tal-libertà tal-għażla u l-awtonomija fuq ġisimna. Kulħadd mistieden biex jipparteċipa billi jaqra poeżiji, proża, stejjer personali, kanzunetti jew kitbiet u ħsibijiet oħrajn dwar it-tema magħżula tal-importanza li persuna tiddeċiedi hi dwar dak li għandu x'jaqsam ma' ġisimha. Il-kitbiet jistgħu ikunu kemm oriġinali kif ukoll mhumiex.

L-għan ta' din l-attività huwa li tingħata vuċi lill-individwi li jixtiequ jaqsmu l-esperjenzi, il-ħsibijiet u s-sensittivitajiet tagħhom dwar l-importanza li persuna jkollha l-għażla li tiddeċiedi jekk tkomplix bi tqala jew le. Nemmnu li f'Malta, is-saħħa u d-drittijiet riproduttivi jeħtieġ li jitpoġġew fuq l-aġenda politika, biex ikunu diskussi b'mod kritiku u b'maturità minflok ma jibqgħu taboo. Okkażjonijiet biex nitkellmu fuqhom huma essenzjali biex tingħeleb is-sitwazzjoni preżenti.

L-attività tibda fis-7.00 pm biex nilħqu ninġabru u nixorbu xiħaġa. Il-qari jibda f'xit-8.00pm. Se jkun hemm ukoll ftit ikel x'innaqqru.