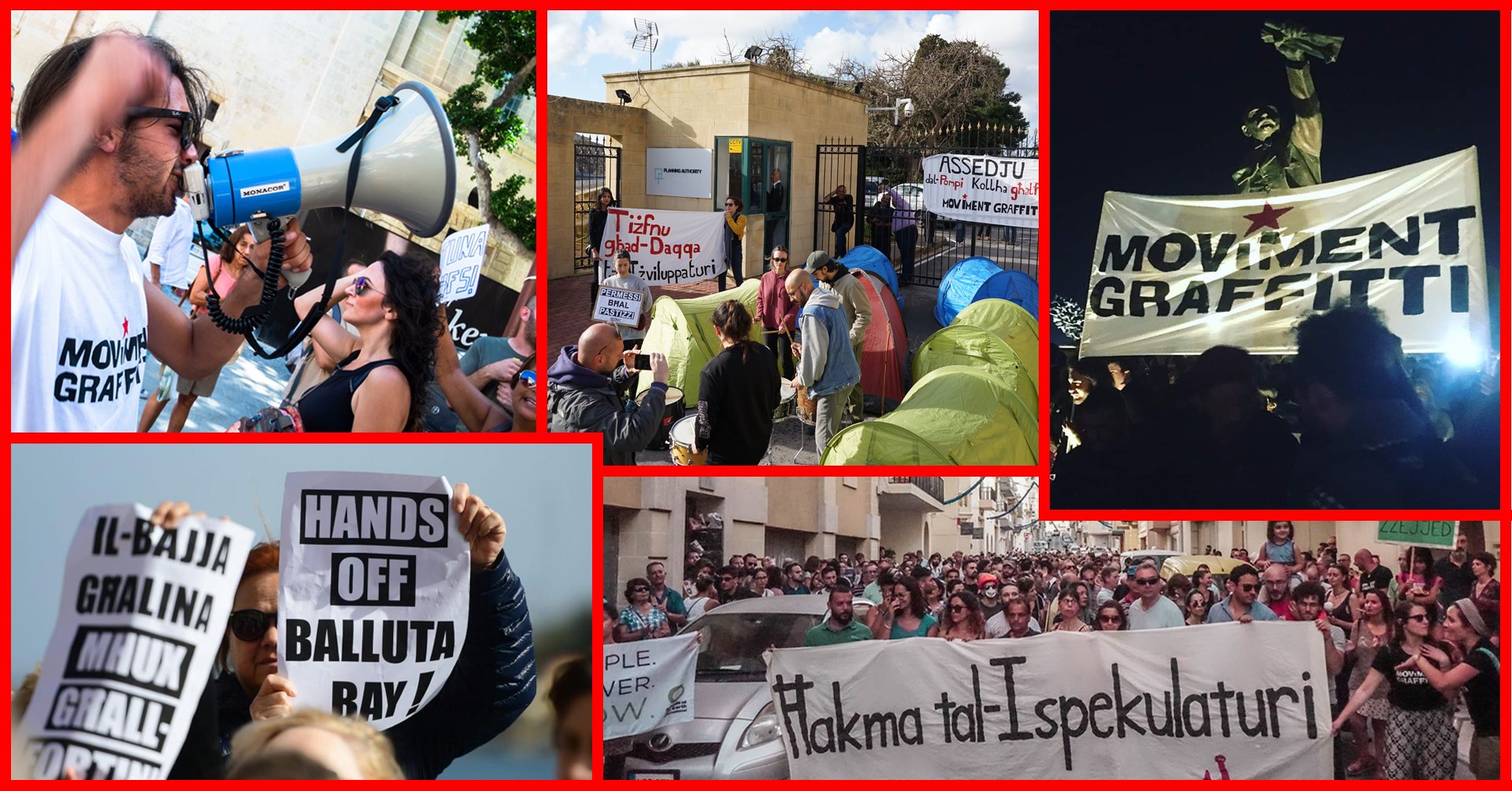 Event Details
25/01/2020
67 Strait Street Valletta
Planning a Year of Activism
On Saturday 25th January at 6pm we will be holding an informal meeting with our members and with the public during which we will take a look at our work during 2019 and discuss our plans for this year.

This initiative will also serve as the Annual General Meeting of Moviment Graffitti. However, for this meeting we are not inviting only members, but also all those who would like to know more about our vision and our work, and those who have any suggestions or thoughts that they would like to share with us.

As a leftist organisation which is active in a wide range of economic, social and environmental issues, the work of Moviment Graffitti is only possible due to the voluntary contribution of many people who offer their passion, skills and ideas for our fight for a just society. It is essential for us to continue discussing our work and plans with different people with the aim of enhancing the effectiveness of our activities.

Towards the end of the meeting we will be screening the documentary 'R/Evoluzzjoni25' which, in 25 minutes, shows the 25-year history of Moviment Graffitti through interviews and film footage. After the meeting we will share some food, drinks and music together.
*************

Nhar is-Sibt 25 ta' Jannar fis-6pm ser ikollna laqgħa informali mal-membri u l-pubbliku li matulha ser nagħtu ħarsa lejn ix-xogħol tagħna tul l-2019 u niddiskutu l-pjanijiet li ħejjejna għal din is-sena.

Din l-inizjattiva ser isservi wkoll bħala l-Laqgħa Ġenerali Annwali tal-Moviment Graffitti. Iżda għaliha m'aħniex qed nistiednu biss lill-membri, imma wkoll lil dawk kollha li jixtiequ jkunu jaf aktar dwar il-viżjoni u x-xogħol tagħna, u lil dawk li għandhom xi suġġerimenti jew ħsibijiet x'jaqsmu magħna.

Bħala għaqda xellugija li hija attiva dwar firxa wiesgħa ta' kwistjonijiet ekonomiċi, soċjali u ambjentali, il-ħidma tal-Moviment Graffitti ssir possibbli biss grazzi għall-kontribut volontarju ta' ħafna persuni li joffru l-passjoni, l-ħiliet u l-ideat tagħhom għall-ġlieda favur soċjetà ġusta. Huwa essenzjali għalina li nkomplu niddiskutu x-xogħol u l-pjanijiet tagħna ma' persuni differenti bil-għan li ntejbu l-effettività tal-azzjoni li nwettqu.

Lejn tmiem il-laqgħa ser inkunu qed nuru d-dokumentarju 'R/Evoluzzjoni25' li, permezz ta' intervisti u filmati, juri il-25 storja tal-Moviment Graffitti f'25 minuta. U wara nibgħu hemmhekk għal ikel, xorb u mużika.