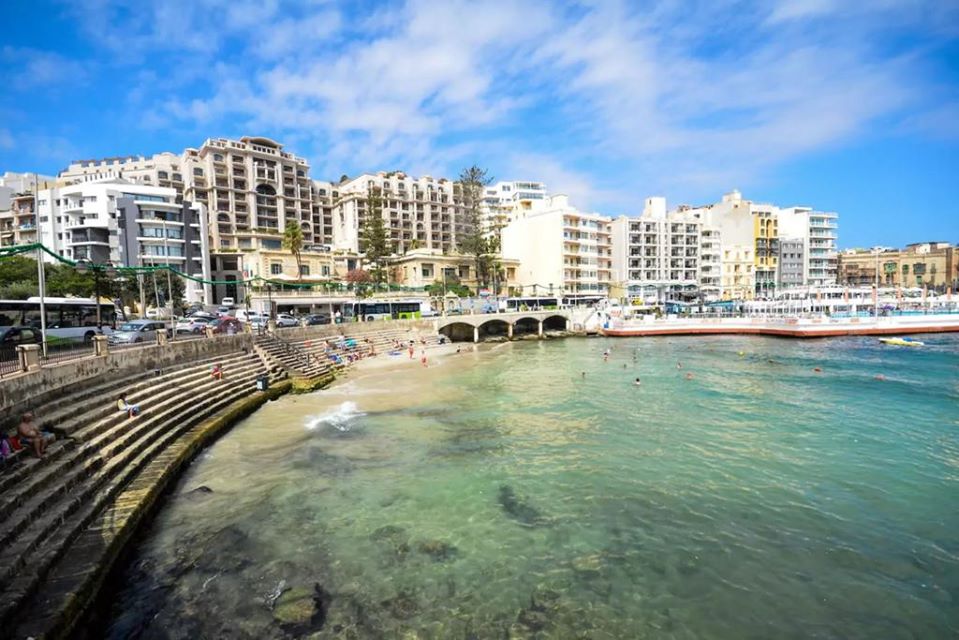 Event Details
16/11/2019
Balluta Bay
Free
Il-Bajja tal-Balluta Mhedda / Konferenza Stampa
Balluta Bay is under threat from an application submitted to the Planning Authority to transform it into a berthing place for Fortina's private ferry. Basically, Balluta Bay would suffer the same fate as the Ferries in Sliema, where this same company took over the largest part of the shore for its private ferries.

Thus, we are inviting the public for a Joint Press Conference between 9 NGOs and the St. Julian's and Sliema Local Councils this Saturday 16th November at 10:30am. During this Press Conference we will outline our total opposition to this plan that, if approved, would:
Deny the residents of Sliema and St. Julian's, all Maltese and Gozitans and also tourists, the enjoyment of one of Malta's most important beaches. A jetty for a private ferry in such a small beach will inevitably mean constant hazards for bathers and sea pollution.

Continue the takeover of public spaces for private interests. Fortina's jetty has no public benefit – it is NOT an alternative means of transport. This is simply a jetty for a private ferry for tourists, from which only Fortina will profit.

See you this Saturday!

Local Councils: Kunsill Lokali San Ġiljan Tas-Sliema Local Council
Organisations: Archaeological Society Malta Bicycle Advocacy Group Din l-Art Helwa FAA Flimkien Ghal Ambjent Ahjar Futur Ambjent Wieħed, GreenHouse, Moviment Graffitti Nature Trust - FEE Malta Malta, Żminijietna – Voice of the Left

**************

IL-BAJJA TAL-BALLUTA MHEDDA – KONFERENZA STAMPA KONĠUNTA

Il-Bajja tal-Balluta tinsab mhedda minn applikazzjoni li tressqet quddiem l-Awtorità tal-Ippjanar sabiex tibda tintuża bhala l-post minn fejn jitlaq u fejn jittrakka ferry privat tal-Fortina. F'kelma waħda, hemm pjan biex il-Bajja tal-Balluta issofri l-istess destin tal-Ferries f'tas-Sliema, fejn din l-istess kumpanija ħadet il-biċċa l-kbira tax-xatt għall-ferries privati tagħha.

Għalhekk, nhar is-Sibt 16 ta' Novembru fl-10:30am il-pubbliku huwa mistieden jattendi għal Konferenza Stampa Konġunta bejn 9 għaqdiet flimkien mal-Kunsilli Lokali ta' San Ġiljan u tas-Sliema. Matul din il-Konferenza Stampa se nkunu qed nesprimu l-oppożizzjoni sħiħa tagħna għal dan il-pjan illi, jekk isir, se jkun qed:
Jiċħad lir-residenti tas-Sliema u San Ġiljan, lill-Maltin u l-Għawdxin kollha u anka lit-turisti milli jgawdu bajja ewlenija f'pajjiżna. Moll għal ferry privat f'bajja zgħira bħal dik se jfisser periklu kontinwu għall-għawwiema kif ukoll tniġġiż fil-baħar.
Ikompli jieħu spazji pubbliċi għal interessi privati. Il-moll tal-Fortina m'għandu ebda skop pubbliku – m'huwiex mezz ta' trasport alternattiv, iżda huwa sempliċiment moll għal ferry privat għat-turisti, li minnu se jagħmlu qligħ biss il-Fortina.

Narawkom nhar is-Sibt!