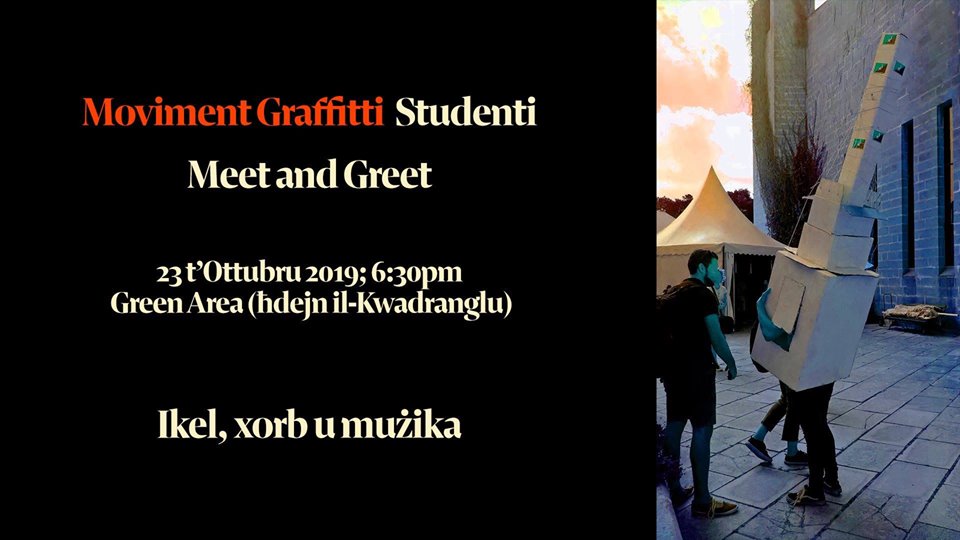 Event Details
23/10/2019
University of Malta
Moviment Graffitti 'Meet and Greet' fl-Università
Moviment Graffitti 'Meet and Greet' fl-Università *(EN version below)*
Studenti MG - il-grupp studentesk tal-Moviment Graffitti - qiegħda torganizza Meet and Greet għas-sena skolastika li ġejja fl-Università. L-attività hi miftuħa għal kulħadd, u speċjalment għal studenti li jixtiequ jsiru jafu iktar dwar xogħlna. Entużjasti niltaqgħu ma' studenti oħra li jinteressahom l-attiviżmu u jixtiequ jkunu parti mill-moviment il-ġdid favur il-ġustizzja soċjali. Ħa jkun hemm ikel, xorb u l-mużika ta' Noah Fabri, Sam Vassallo u MJAW - Diski għall-Ħmir. Serata mimlija kreattività, buzz u anke xi diskussjoni jew tnejn. Inħeġġukom iġġibu magħkom lil sħabkom li għandhom interess fil-ġrajjiet kurrenti lokali fosthom il-qerda tal-ambjent, ir-regħba tal-industrija tal-kostruzzjoni u l-bżonn ta' kwalità ta' ħajja diċenti. Narawkom għall-ewwel attività tal-Moviment Graffitti fuq il-kampus din is-sena!
Niltaqgħu fis-6:30 pm // Green Area taħt il-Kwadranglu
Mużika: Noah Fabri, Sam Vassallo, MJAW
*******************************************************************
Moviment Graffitti 'Meet and Greet' at University (EN)
Studenti MG - Moviment Graffitti's student wing - is organising a Meet & Greet for this academic year at University. The event is open to all, aimed most of all at students who want to find out more about our work. We're enthusiastic to meet other students interested in activism, who want to be part of our new movement for social justice. There will be food, drink and music from Noah Fabri, Princess Wonderful and MJAW - Diski għall-Ħmir. An afternoon of creativity, buzz and perhaps a debate or two too. We encourage you to bring friends who are also interested in current affairs, such as the destruction of the environment, the carnage wrought by the construction industry, and the need for a decent quality of life. See you for Moviment Graffitti's first activity on campus this year!
6:30 pm // Green Area beside Quad
Music: Noah Fabri, Sam Vassallo, MJAW