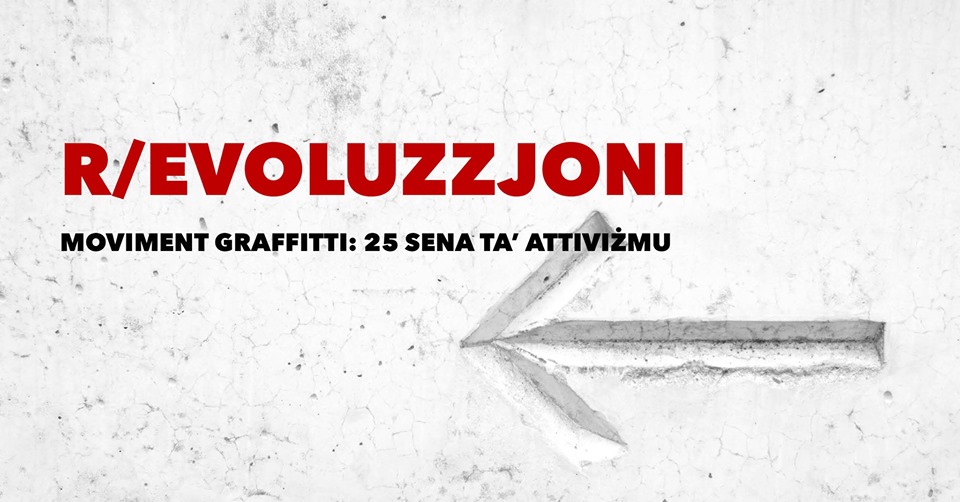 Event Details
11/10/2019
67 Strait Street Valletta
Free
R/Evoluzzjoni - 25 Sena ta' Attiviżmu
This year is Moviment Graffitti's 25th Year. Like any other twenty-five year old who has seen a bit of life already, and yearns for more, we'll be celebrating with some events.

EXHIBITION: A weekend-long exhibition at 67, Strait Street, Valletta detailing, in pictures and artifacts, Moviment Graffitti's quarter of a century from the very early days. The exhibition will be open on
Friday: 6:30pm to 10pm
Saturday: 10am to 1pm and 4pm to 10pm
Sunday: 3pm to 8pm

FRIDAY 11 OCTOBER at 6:30pm: We will open the exhibition through the screening of R/Evoluzzjoni 25, a showreel featuring interviews from people who have followed Graffitti's history throughout the years including journalists James Debono and Karl Schembri, past members like Christian Mizzi and Mary Grace Vella, trade-unionist Sammy Meilaq and many others, as well as footage of old and recent Graffitti actions. The documentary is in Maltese with English subtitles.

SATURDAY 12 OCTOBER at 7:00pm: We will be hosting a discussion about the future of activism in two-party system, with a select panel of speakers who will be invited to give their views on this topic.

SUNDAY 13 OCTOBER at 5:00pm: Drinks and music.

Entrance is free, donations are welcome, and your presence an honour.
****************
Dis-sena, il-Moviment Graffitti jagħlaq 25 sena. Bħal kwalunkwe persuna ta' 25 sena rajna diġà xi ftit mill-ħajja, irridu aktar, u għalhekk se niċċelebraw il-25 sena b'xi avvenimenti.

WIRJA: Ser tittella' wirja tul il-weekend sħiħ fil-bini tagħna f'67, Triq id-Dejqa (Strada Stretta) ġewwa l-Belt, fejn se nuru permezz ta' bosta ritratti u materjal ieħor il-kwart ta' seklu tal-Moviment Graffitti sa mill-ġranet tal-bidu nett. Il-wirja se tkun miftuħa:
Il-Ġimgħa: 6.30pm – 10pm
Is-Sibt: 10am – 1pm u 4pm – 10pm
Il-Ħadd: 3pm sa 8pm

Il-ĠIMGĦA 11 ta' OTTUBRU, 6.30pm: Se niftħu l-wirja billi nuru għall-ewwel darba d-dokumentarju R/Evoluzzjoni 25, li jinkludi intervisti ma' persuni li segwew l-istorja tal-Moviment tul is-snin fosthom il-ġurnalisti James Debono u Karl Schembri, membri tal-passat bħal Christian Mizzi u Mary Grace Vella, it-trejdunjonista Sammy Meilaq u ħafna oħrajn, kif ukoll filmati ta' azzjonijiet antiki u riċenti tal-Moviment. Id-dokumentarju huwa bil-Malti u b'sottotitoli bl-Ingliż.

IS-SIBT 12 ta' OTTUBRU fis-7.00pm: Se nospitaw diskursata dwar il-futur tal-attiviżmu f'sistema b'żewġ partiti, b'panel ta' kelliema mistednin jagħtu l-opinjonijiet tagħhom dwar dan is-suġġett.

Il-ĦADD 13 ta' OTTUBRU fil-5pm: Mużika

Id-dħul huwa b'xejn; naċċettaw id-donazzjonijiet tagħkom, iżda l-ikbar unur ikun il-preżenza tagħkom