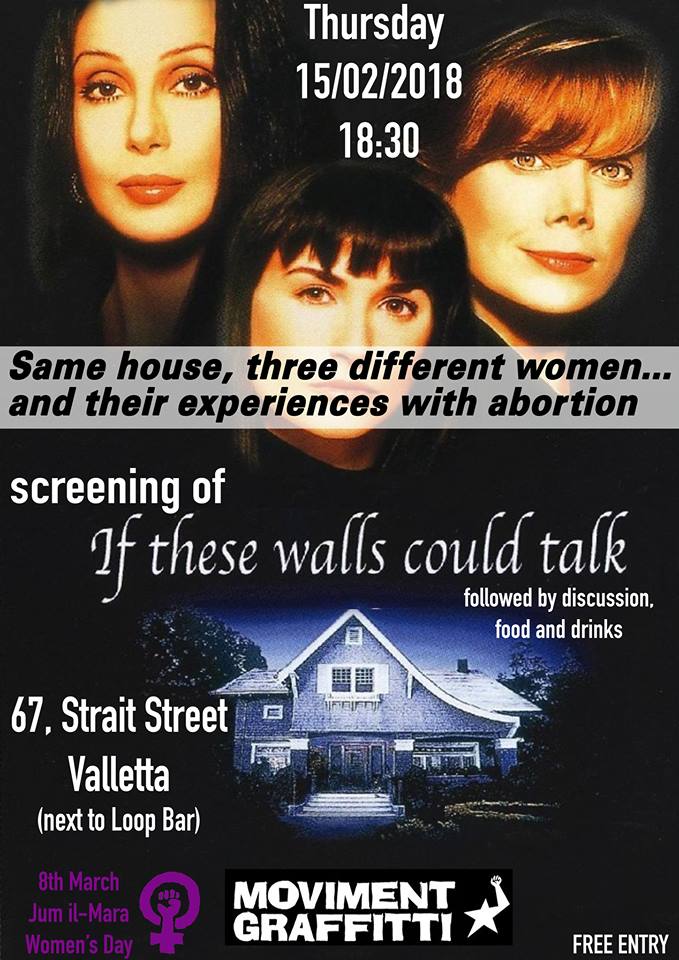 Event Details
15/02/2018
Free
Screening - If These Walls Could Talk
Moviment Graffitti is organising a series of initiatives on women's rights during the weeks leading to the 8th March – International Women's Day 2018.
The first event is the screening of "If these Walls Could Talk", (directed by Cher and Nancy Savoca, 1996), dealing with the topic of reproductive rights.
The movie tells the story of three different women, living in the same house in different eras - 1952, 1974 and 1996 – and their experiences with abortion.
Following the screening there will be a short presentation by Dr Andreana Dibben, from the Women's Rights Foundation, and a discussion on the topic.
Free entry.
FULL PROGRAM - International Women's Day
Thu 15th Feb at 6:30pm
SCREENING OF "IF THESE WALLS COULD TALK" at 67, Strait Street, Valletta
Tue 20th Feb at 6:00pm
KURDISTAN: A WOMEN'S REVOLUTION at the GWU Building, South Street, Valletta
Fri 23rd Feb at 6:00pm
WOMEN WHO FIGHT: FROM THE ITALIAN PARTISANS TO THE ROJAVA REVOLUTION at 67, Strait Street, Valleta
SAT 3rd Mar at 10:30am
TALK ON PATRIARCHY AND MISOGYNY at the Multipurpose Hall, Ministry for Education and Employment, Great Siege Road, Floriana
Thu 8th Mar at 5:30pm
WOMEN'S DAY MARCH in Valletta
Thu 8th Mar at 8:00pm
NO FIGHT WITHOUT FESTA at Maori, Triq il-Lanca, Valletta
Sat 10th March at 6:00pm
PRESENTATION ON FEMINIST STREET ART at 67, Strait Street, Valletta