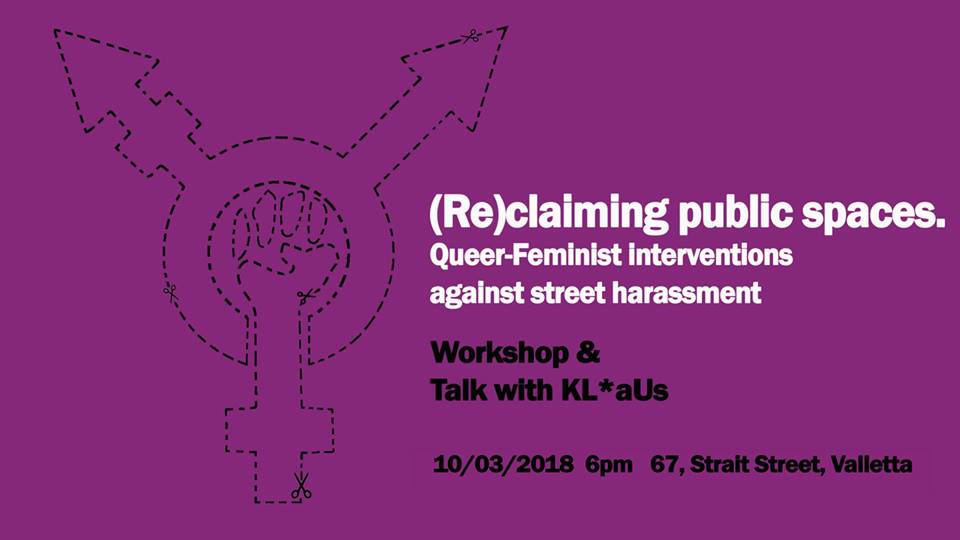 Event Details
10/03/2018
Moviment Graffitti
Free
(Re)claiming Public Spaces
Re-claiming public spaces. Queer-Feminist interventions
Closing our program of activities connected to International Women's Day is the workshop & talk titled:
(Re)claiming public spaces. Queer-Feminist street-art against street harassment
Kl*aus is a queer-feminist collective from Graz (Austria) which works on the topic of (street) harassment, power-relations in public space and possibilities of queer-feminist interventions as a way to reclaim the streets and to fight back; a strategy of self-empowerment.
The workshop and talk shall be an exchange of experiences, ideas and strategies related to issues like repression against women*, gendered hierarchies and power relations in public spaces.
Related questions that can be addressed are:
- What is public space?
- To whom does it belong and which roles does it imprint on people?
- Which norms do I have to fulfill in order to have a place in public space?
- Which mechanisms exclude people from public spaces?
In order to go beyond theoretical inquiry, important issues such as solidarity, support, the need of feminist allies and active strategies against discriminatory practices shall be tackled.
Moreover, some examples of queer-feminist interventions will be presented.
Followed by food, drinks and music
*Open to all genders