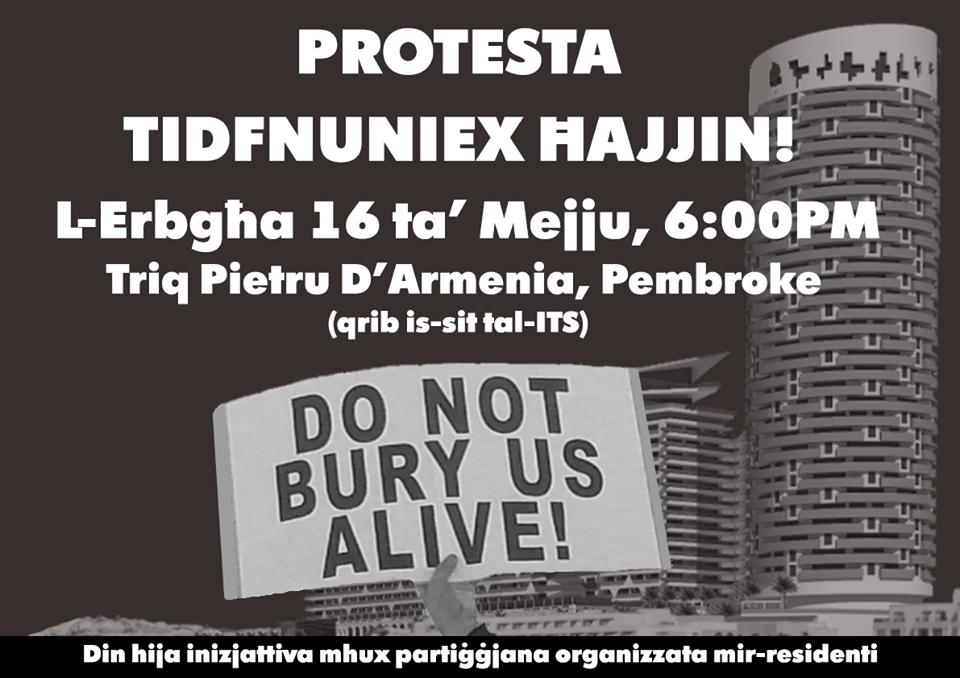 Event Details
16/05/2018
Triq Pietru D'Armenia, Pembroke
Free
Protesta - Tidfnuniex Ħajjin!
Now is the time to make our voices heard!


On Wed 16th May the public is encouraged to join a protest in Pembroke so that the voices of residents and all those who are concerned with the state of our environment do not go unheard. We will meet at 6pm in the small square in Pietru D'Armenia Street at 6:00pm, and from there, we will walk together to the ITS site.

Pembroke, Swieqi and St. Julian's are threatened by a proposed development on the ITS site that would effectively bury people alive under the long shadows cast by a gigantic 37-storey tower and a 19-storey resort hotel, unlimited commercialisation, endless traffic, and hazardous dust.

The objection period has started and the public has until Friday 25th May to formally object to this project with the Planning Authority (PA). You can send your objection by following this link: http://pa.movimentgraffitti.org/permit/1. You simply need to input your name and email address in order to submit an objection that has been prepared by residents and NGOs.

After the objection period closes, the PA Planning Board will decide on this project.

This initiative is strictly a non-partisan event organised by residents with the support of NGOs.


Issa huwa l-ħin li nsemmgħu leħenna!

Nhar l-Erbgħa 16 ta' Mejju l-pubbliku huwa mħeġġeġ jipparteċipa fi protesta f'Pembroke sabiex tinstema' l-vuċi tar-residenti u ta' dawk kollha li huma mħassba dwar l-ambejnt. Se niltaqgħu fis-6pm fil-pjazzetta ġewwa t-Triq Pietru D'Armenia u minn hemm nimxu flimkien sas-sit tal-ITS.

Pembroke, is-Swieqi u San Ġiljan huma mhedda minn żvilupp propost fuq is-sit tal-ITS li, jekk se jiġi approvat, se jidfen lin-nies ħajjin taħt id-dellijiet twal u wesgħin li se jitfgħu t-torri ġgantesk ta' 37 sular u l-lukanda maġenbu ta' 19-il sular. Se jidfinhom ħajjin taħt il-kummerċjalizzazzjoni bla rażan, it-traffiku bla waqfien, u t-trab perikoluż li se jiġġenera.

Il-perjodu sabiex il-pubbliku joġġezzjona għal dan il-proġett fetaħ u n-nies għandhom sal-Ġimgħa 25 ta' Mejju sabiex jagħmlu l-oġġezzjoni formali tagħhom mal-Awtorità tal-Ippjanar (PA). Tista' tibgħat l-oġġezzjoni tiegħek billi ssegwi din il-ħolqa: http://pa.movimentgraffitti.org/permit/1. Kull ma trid tagħmel huwa li tikteb ismek u l-indirizz elettroniku tiegħek, u b'hekk tissottometti oġġezzjoni li ġiet ippreparata mir-residenti u l-NGOs.

Wara li jagħlaq il-perjodu għall-oġġezzjonijiet, il-Bord tal-Ippjanar fi ħdan il-PA se jiddeċiedi dwar dan il-proġett.

Din hija inizjattiva mhux partijġġana organizzata mir-residenti bl-appoġġ tal-NGOs.